Especially on our St. Barth Itinerary you can enjoy a lot of sailing time and watch the islands from a little distance. On this full day excursion, you will discover the beauty of this exquisite island which blends French urban flair with a lush tropical landscape of soaring mountains, white sand beaches, windswept cliffs and turquoise bays filled with sail boats. Because of this dreamlike setting, St Barth is a destination of choice for the rich and famous and popular for its laid-back tempo, luxurious small-scale hotels, designer boutiques and outstanding gourmet restaurants. Spoil yourself with a boat trip to this magnificent island, you will not be disappointed.

9.00 AM
Firstly, welcome on-board and after a short briefing you can enjoy a 2+ hour sail to the main port of St Barth, Gustavia.
11.15 AM
Arrival in Gustavia harbor where we give you time to explore this picturesque port! Watch the luxury yachts, browse the upscale boutiques and enjoy a delicious lunch at a restaurant of choice. Also, you can ask your captain for good recommendations.
1.30 PM
We will meet you again at Shell Beach, which is a 5 minute walk from Gustavia. Next, we will head to Colombier Bay, a remote sandy beach that offers fantastic sea life for snorkeling. Besides, you might get lucky and spot some turtles.
3.00 PM
After some snorkeling time we will raise the anchor and head back to Sint Maarten. The way back will take about 2 hours.
5.00 PM
Arrival back in Sint Maarten. Finally it is time to say goodbye but don't worry, you can always come back another time.
Mojito and Don't Worry are the only boats that are used for St Barth day trip.
This itinerary is only available in good weather conditions. In the event of high winds or swell, the itinerary will automatically change to our local trip around Sint Maarten / Saint Martin to ensure your comfort and safety.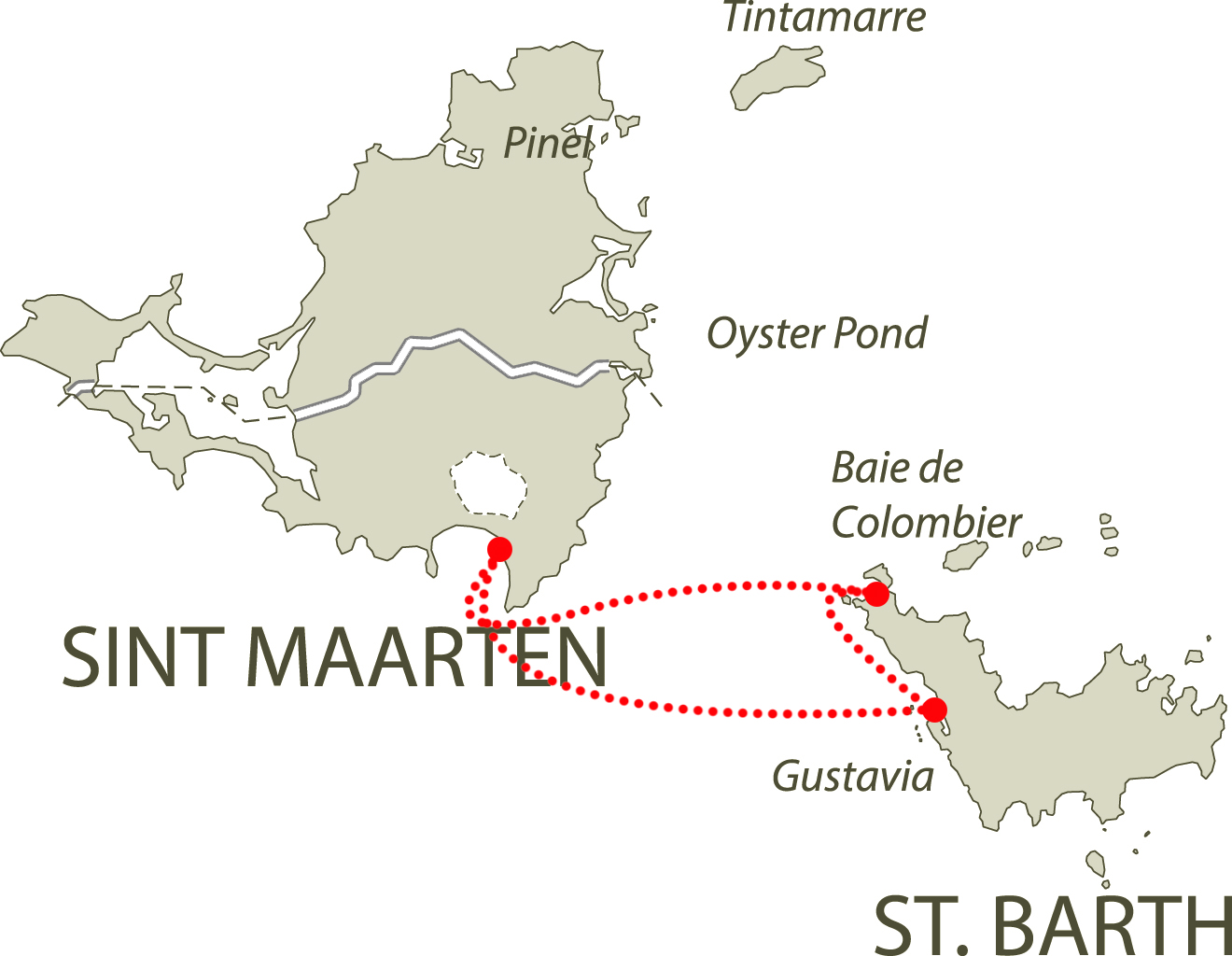 «Passport Required»
Note: Clearance and custom fees are not included in the charter rate ($300 + $11 pp).