Anguilla is everything you need from a Caribbean island. Beautiful white sand beaches, turquoise blue waters, scenic bays, gentle breezes and palm trees as far as the eye can see. It is the perfect island to relax and escape from the bigger crowds. We can still consider it a hidden gem, it is not too developed yet nor packed with tourists. Join us on a relaxing day sail and discover the beauty of this paradise.

9.00 AM
Departing shortly after the skipper's briefing, we will cruise towards Anguilla (approx. 2 hours).
11.15 AM
We arrive at Sandy Ground where the crew will take care of customs. Enjoy the beach or a nice swim in the water.
11.45 PM
Arrival in Little Bay where you can enjoy some nice snorkeling, or a cliff jump for the people who dare.
1.00 PM
Enjoy a nice lunch at Davida restaurant in Crocus Bay and enjoy their tapas, fresh lobster, grilled meat, seafood or their famous mushroom risotto. Or enjoy our on-board lunch while you enjoy the amazing views.

3.00 PM
Time to wave Anguilla goodbye while we head back to our marina in Philipsburg.
5.00 PM
Time to say goodbye. We hope you enjoyed your charter!
Mojito and Don't Worry are the only boats that are used for Anguilla day trip. 
This itinerary is only available in good weather conditions. In the event of high winds or swell, the itinerary will automatically change to our local trip around Sint Maarten / Saint Martin to ensure your comfort and safety.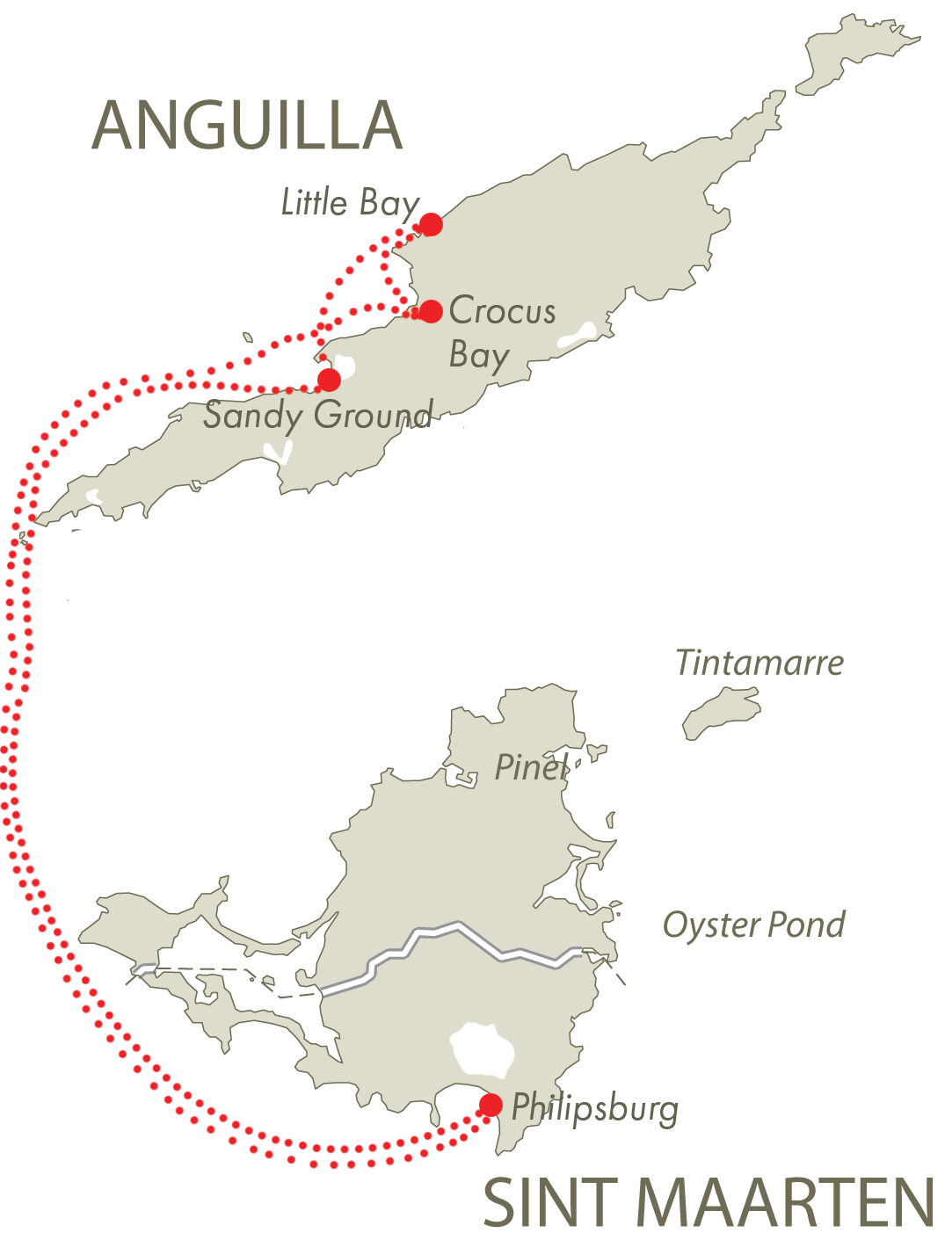 «Passport Required»
Note: Clearance and custom fees are not included in the charter rate ($350 + $11 pp)