Our local itinerary around Sint Maarten is the perfect tour focused on snorkeling and beach time. Our most popular route makes stops at Tintamarre and Pinel island but we can also stay along the Caribbean Sea side and make stops at different beaches. Both itineraries will have options for snorkeling, beach time and a restaurant if you choose to have your lunch on shore. Our local itinerary is best for families with children and for people who are more sensitive to seasickness.

9.00 AM:
Departure from Philipsburg Bobby's marina. After a short briefing we will start our sail to Tintamarre.
10.30 AM:
Arrival at Tintamarre, home to many sea turtles! Taking a walk around this now uninhabited island, you will find the remains of an airstrip, a small rail track and a cotton plantation.
12.00 PM:
We depart for Pinel Island, a tropical island which offers great beach time. Enjoy the sail which will take about 30 minutes.
12.30 PM:
Time for lunch! Choose for a restaurant lunch at Karibuni or enjoy a more intimate setting with our on-board lunch package.
2.00 PM:
You have the option for swimming around the boat or relaxing on-board of snorkeling along Green Cay island.
3.30 PM:
Time to raise the anchor and return back to Philipsburg.
5.00 PM:
The boat arrives back in the marina and it's time to say goodbye.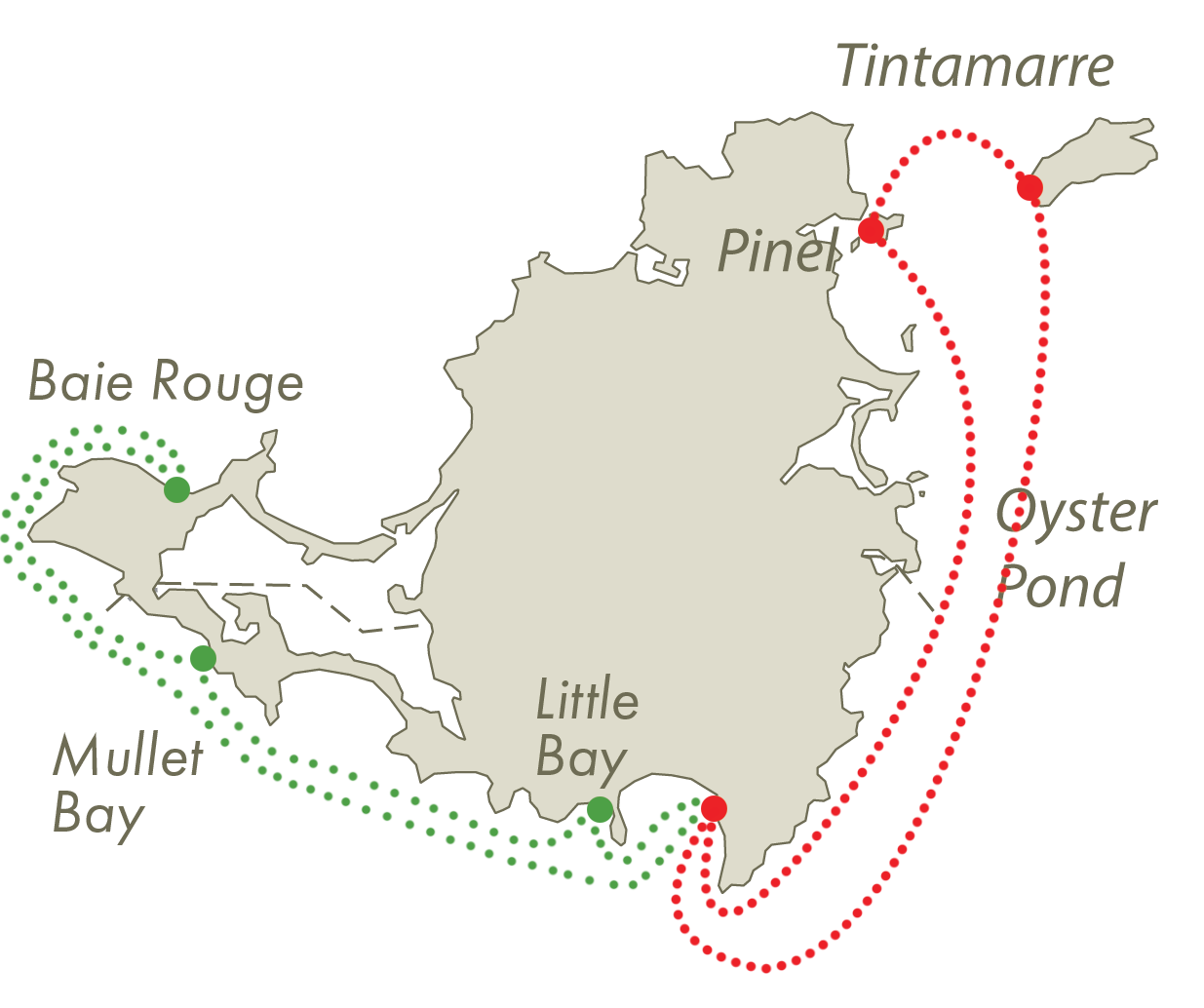 Red: Our most popular itinerary.
Green: Best itinerary for families and all weather conditions.
NOTE: Examples only. The itinerary might change depending on client's preferences, schedule and weather conditions.